Who's the team?
The team is the foundation, the rocket fuel and the sat-nav of Dharohar. Come meet them!
Aru Mathur (Jugadoo Juggler)
Aru as a person seems to have a helping nature, At workplace she manages the stuff for Shivani. She absolutely loves the creative side of herself. Always up for a getaway from a daily routine life. And in case if you're wondering what she might be thinking, 'well it's always about the chocolates'. :sweat_smile:
Harshavardhan Sumant (Wacky Wordsmith)
If there is anything that you need to think through to the root of the problem, through debate, discussions he is your guy. If you have some new ideas brewing in your head that you want to bounce off someone, don't hesitate to come and share. If you want a person to provoke and motivate yourself through questioning and real life examples for your programs, you should fetch him. I travel and I explore things that are omnipresent but unseen.
Kriti is always looking for a new idea, new mischief or something to try. A graphic designer by training, she creates awesome new activities that kids will love. When she isn't tinkering with new ideas, she can be found sketching or playing games.
Manish is usually found handling three phone calls at once; he's the go-to-guy for all the volunteers. He is the connection between us, schools and volunteers, and he manages everything with a lot of grace under pressure. When he's not scurrying around with work, he's a demon at the TT table, and dangerously skilful at dodgeball (you have been warned)!
Mahendra handles accounts and admin for Dharohar. You might find him behind piles of bills, but handling them with keen attention. A leaky tap, a lack of chips or questions about money - he's your man. Always ready to help and full of awesome suggestions, he's your go-to-guy.
Narpat Singh Rathore (Data Cruncher)
I recently started working on monitoring & evolution at Dharohar. But don't worry I am not like the snatcher class monitor of your school days, you may find a cool friend in me to explore Udaipur in and around. You may face lot of questions, What? Why? Value addition & blab blab blab! if you are planning anything in front of me. At Dharohar, I can help not only in drawing electrical circuits but also i may be a helping hand in legal advisory or you can call it Free Fokat ki Ray."
Sanhita (Content Cartoon)
Sanhita is trying to figure out who she is and what she wants to do. You can find her exploring new movies, watching or reading weird stuff and asking questions. At Dharohar, she writes content for training sessions and trains volunteers for our programs. You'd better attend her training if you want to be awesome!
Shekhar wears a smile all the time; no matter how difficult the situation . Defusing hot topics and telling silly jokes to keep us all laughing is his star quality. At Dharohar, he handles event management, photography and external partnerships with schools. He makes stuff happen!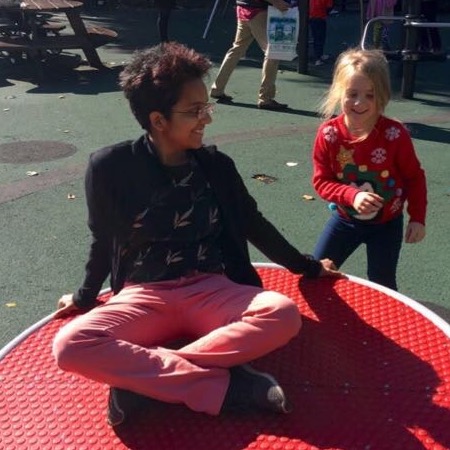 Always asking questions, Shivani can be found watching documentaries, reading books or trying to learn a random new language. At Dharohar, she tries to figure out where we should be going, and what's the highest impact way of getting there. It's a dream come true - to have a job that actually needs you to look at picture books, play with toys and chill with kids!
Tanvi Agarwal (Mast Maker)
She is Dr. Tanvi Agarwal. She is a dentist with 7 years of clinical experience. She works part-time and she is often found in the workshop working on experiments. You can always rely on her as a good listener and contributor to your thoughts. When she's not hard at work, she is most often found playing board games; she's got killer strategy so beware!
Tripti recently started working on our Jungl3 Project. She is plant-obsessed, and knows lots about the uses of each plant. We think this is why she's a health nut- she's always eating salad! At Dharohar, she helps us understand different species of plants and animals. She hasn't managed to categorise us yet thought!